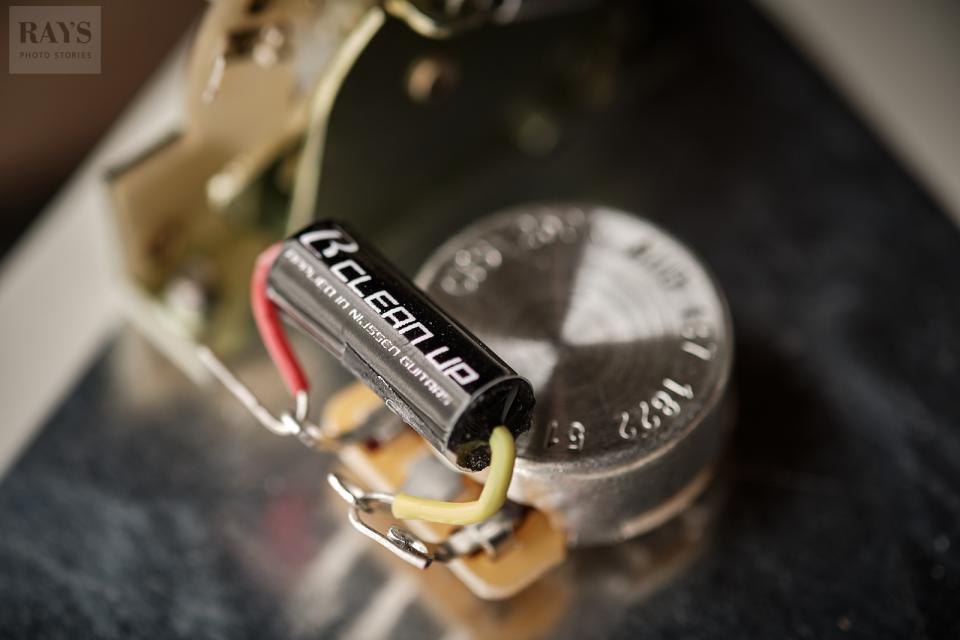 CLEAN UP FILTER
by Lex Bos, exclusively for Nijssen Guitars
There is something unique and special added to every Nijssen Custom Guitar:
The "Clean up filter".
In cooperation with Lex Bos (known for the Super Drive tube distortion pedal, boost pedal, Cool Drive pedal and the Buddy guitar amp www.lexbos.nl ) we develop and test the best guitar electronics and sounds as possible. This resulted in the Lex Bos version of the "Clean up filter" which is applied exclusively in every Nijssen Custom Guitar.
How does it work?
It's connected on the volume potentiometer to prevent loss of sound when turning down your volume pot, but it's not a treble bleed! In compare with a regular treble bleed circuit there is always a little bit top end added to your pickup sound. The "Clean up filter" doesn't add any top end, it's exactly the sound of your pickup, only at a lower volume if you dial it down. Sounds simple, but a big difference in dynamics of your guitar interacting with your amp and effects. Which opens a lot of new possibilities in creating sounds and dynamics of your guitar.
(applied exclusively in every Nijssen Custom Guitar, not sold separately.)